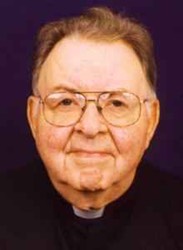 THE REV. MR. BERNARD THOMAS FLYNN

Father Bernie Flynn, 89, died on May 6, 2015.  He received his BA at Villanova University, his Masters of Science at Catholic University, and became a Roman Catholic priest in 1953.  He taught chemistry and was the headmaster of Cascia Hall Preparatory School in Tulsa, OK.  He became an Episcopal priest in 1974.  He served in three Ocala churches:  Saint Mary's, Saint Stephen's, and the Episcopal Church of the Advent.  He was noted for his many workshops and retreats.  He is survived by his wife, Madonna; his daughter, Rosemary Flynn Diller and her husband Keith, their children Kyle and Tanner; his AA 35 year sober fellowship; and numerous family members and friends.  Services for Father Bernie will be at the Episcopal Church of the Advent, 11251 SW Hwy. 484, Dunnellon on Monday, May 11, at 2 PM.  In lieu of flowers, the family requests remembrances to the Salvation Army or donor's favorite charity.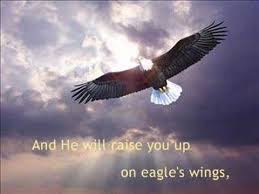 On Eagle's Wings
by Michael Joncas
1. You who dwell in the shelter of the Lord, who abide in his shadow for life, say to the Lord: "My refuge, my rock in whom I trust!"
REFRAIN: And he will raise you up on eagle's wings, bear you on the breath of dawn, make you to shine like the sun, and hold you in the palm of his hand.
2. The snare of the fowler will never capture you, and famine will bring you no fear: under his wings your refuge, his faithfulness your shield. (REFRAIN)
3. For to his angels he's given a command to guard you in all of your ways; upon their hands they will bear you up, lest you dash your foot against a stone. (REFRAIN)